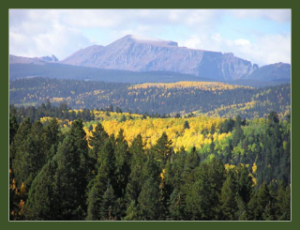 Arrowhead was originally a cattle and sheep operation located south of Highway 50 halfway between Montrose and Gunnison at an elevation of 9,500 feet. Today, Arrowhead Ranch has been transformed into a fabulous Colorado Mountain property community on 3 square miles of the ranch's best forest and meadows.
Each full-acre circular home site is protected on all sides by common land – a total of 1500 acres – owned by all property owners through a homeowners association. All sites have breathtaking mountain or meadow views. Most properties are in secluded spruce or aspen groves, but you'll find some in meadows that take advantage of the Colorado sunshine. Property owners include both full-time residents and seasonal residents.
Although surrounded by majestic wilderness, Arrowhead Ranch is completely modern. It is served by a central water system which carries Chlorinated, filtered spring water throughout the development. Underground electricity and telephone lines – with DSL high speed service are available to every lot. The Ranch has well placed fire hydrants, and is protected by a volunteer Fire Department for your safety.
Arrowhead Ranch is ideally located for natural beauty. It is adjacent to BLM (Bureau of Land Management) land which in turn abuts more than 1.5 million acres of National Forest. Blue Mesa, Colorado's largest reservoir is only 20 minutes away. Lake San Cristobal (Colorado's largest natural lake), Morrow Point Reservoir, Curecanti National Recreation Area, Gunnison National Forest, Uncompahgre Wilderness Area, Black Canyon of the Gunnison National Park (Colorado's "Grand Canyon") are in the immediate vicinity. Mountain activities, with more than 22 peaks, over 10,000 feet are within an hour's drive of your new home at Arrowhead Ranch.
Worldclass Alpine skiing and luxury resorts are as close as Crested Butte and Telluride, each just 1-1/2 hours away.
Arrowhead Mountain Lodge is a family-owned bed and breakfast inn where you're welcome to stay while visiting Arrowhead Ranch. Property owners enjoy the inn's bar and restaurant that is open to the public.
Click here to visit our beautiful Arrowhead Ranch Photo Gallery!